Yo I had to reached out to an old friend (from my oki high school days) who's mad
talented. This dude is on some other shit. His art is just insane, I'd hate to see what this negro dreams about! jessssuss..lol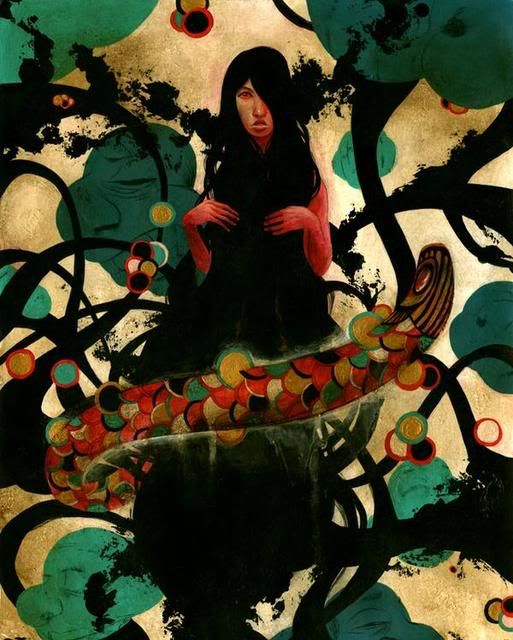 micAh! - WHERE YOU REPPIN'?
uhh...Philippines, Japan, Okinawa, Hawaii, San Fran, Sarasota, San Antonio, now currently Bay Ridge NY....gotta rep them all
micAh! - WHATS YA OCCUPATION?
The day gig, apparel designer for a major comp, aside from that an Image maker and all around pro art-nerd.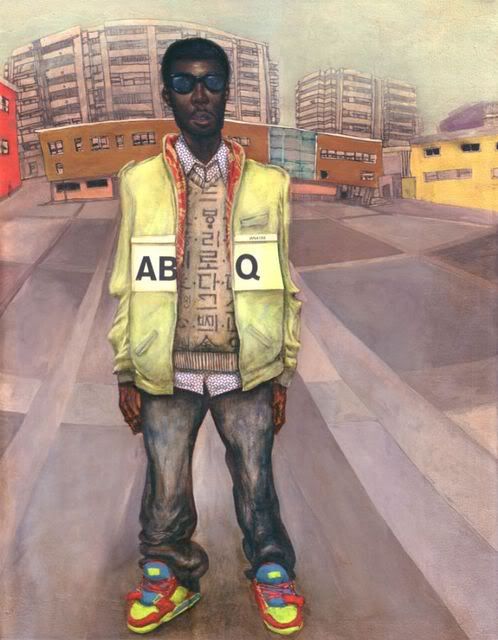 micAh! - WHERE'S MY GODDAMN "STREETS IS WATCHING" VIDEO I LET YOU BORROW BACK IN HIGH SCHOOL?
Yo, I still got it back home. I think in one of my boxes somewhere, if I ever find it again I got you haha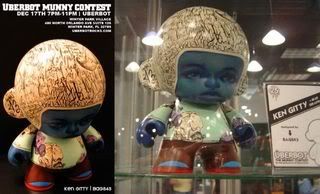 micAh! - WHAT ARE YOUR INFLUENCES?
Way to much, does everything count?

micAh! - HAVE YOU DONE ANY PIECES FOR A CELEB?
Well I was invited to partake in this gallery show in Cali in the summer of '06. Very fortunate to take part in the show, it was curated by Shawn Barber ( well known portrait artist, fellow artist, friend, teacher and mentor-might have seen him on Miami Ink/LA ink). Anyway he put this show together in San Fran and I sent a couple of paintings out. I couldn't make the show cause I was currently living in Orlando. Apparently Rob Williams (yes the actor) and his family attended the show. I get a phone call from Shawn the night of the show and hes like "Hey man one of your paintings just sold, Robin William's son just bought it"
micAh! - SAY A BAD ASS GAL HAD A BOOGER IN HER NOSE WHEN YOU TRIED TO HOLLA AT HER WOULD YOU STILL PURSUE?
Say Kim Kardashian had a booger in her nose, would you really halt the pursuit?
micAh! - WHAT MADE YOU PURSUE ART FULL TIME?
Aside from the obvious,what really did it was getting accepted to art school. After graduating high school all I wanted to do was go to art school, it was kind of a scary time cause I only applied to one art school and if I didn't make it in I probably would have joined the air force by default. Luckily I got accepted and the rest is history in the making.
Back to the obvious: Been doing art since day one, its always been a natural route for me to pursue.

micAh! - WHY YOU AIN'T HIT THOSE HOLES HARD DURING FOOTBALL SEASON IN HIGH SCHOOL?
What?!, I'm a buck '35, I don't hit holes, I know my place...wide open and open field, hard to catch me then...haha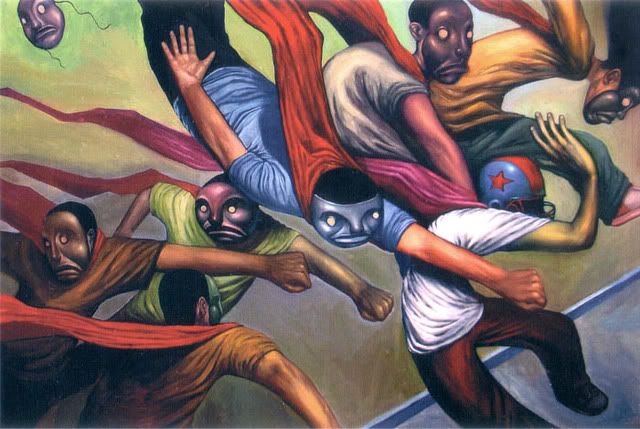 micAh! - HOW MANY KICKS YOU GOT?
Maybe 70 plus....I take care of my junk though, allot of em is still fresh some just haven't even been worn yet which prompt me to slow down in the buying field. I've come to realize the only kicks I really care about are retro joints from the mid 90's. I got a fair share of what I want so I'm kinda chill on the hunting.

micAh! - WHAT THE MOST YOU EVER SPENT ON A PAIR OF KICKS?
haha...140, thats my limit, I get hooked up with high price kicks here and there and I diff got some kicks that are valued round but I scratch paying over 140, thats just stupid...Plane tickets cost more the 140, I'd rather go somewhere you know?
micAh! - WHAT YA FAVORITE MUSIC ARTIST?
Geez...safe to say Miles Davis
micAh! - DESCRIBE THE STATE OF HIP-HOP RIGHT NOW.
Music wise, over saturated. Like all things, eventually the music will evolve and hopefully something grand will hit the light. As a culture, its cool to see that its starting to become more diversified and broad. I mean the current melting pot of genres and cross-over lifestyles is helping that which is really grand.

micAh! - DESCRIBE YA ART STYLE.
I hate this question but here's my answer I use that I think gives a fair depiction:
A melting pot of genres, cultures, colors, mediums, perspectives, and nostalgic haiku's.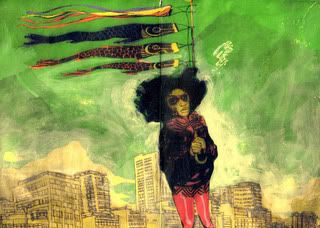 micAh! - WHAT SHOULD WE EXPECT FROM YOU IN THE 08?
Hopefully allot of new imagery and projects, don't want to say too much but if you know me, stuff will come out by the pile. I got a mini interview in TRACE magazine coming out I think next month, I got a group show in Portland, Oregon in May, I do have some gear I helped design hitt'n the market later on in the fall though, and I'm looking to release my 3rd book in the summer.....keep ya eye's peeled, best bet just keep tabs on:
http://bagsbrown.blogspot.com/
micAh! - WHO YOU VOTING FOR?
shh...
micAh! - WHERE CAN PEOPLE CONTACT YOU TO GO GET SOME ART COMMISSIONED?
Bagger43.com
I'm booked with work this year. By summer I'll have more breathing space but then again its too early to tell.

micAh! - IF YOU HIT THE LOTTO WHATS THE 1ST THING YOU'D DO?
Pay off my damn school loans, cut my a family a check, buy a simple crib near my family, travel heavy and paint/create my days away (all the while not tell anyone, thats key haha).
micAh! - TELL US SOMETHING THAT WE WOUlDNT NECESSARILY KNOW ABOUT YOU.
Umm...on some nerd ish, I'm a big Transformers fan (way before the movie dropped) haha
BUY DENNIS' ARTWORK
Dennis' Website
Dennis Blog
Dennis Myspace
P.S. GO COP THAT GUTS ON PAPER!!!